Foundation Curriculum
The 3D Curriculum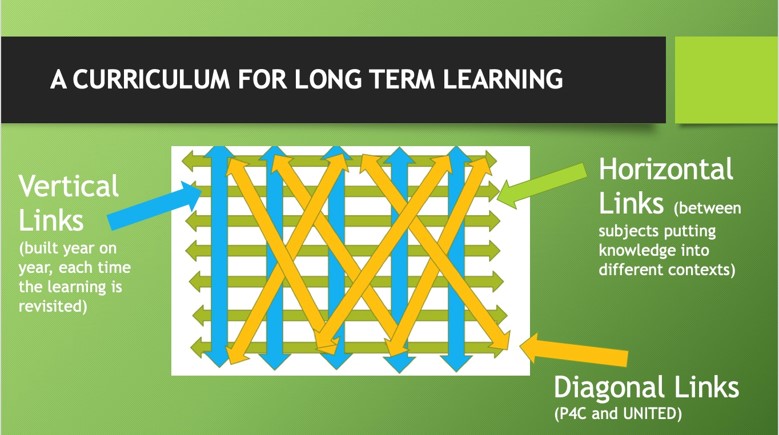 We intend to provide an AMBITIOUS curriculum for all our pupils.
Our GLA 3D curriculum is a knowledge-connected curriculum, rooted in acquisition of language and development of subject specific vocabulary. It is designed to build schema and cultural capital through providing enriching experiences, the opportunity to build on prior learning and stimulating philosophical discussion to reason, form opinion and develop a deeper appreciation of the world around us.
"Curriculum planning consists of more than organising a timetable. It is about leaders having thoughtful conversations with colleagues about the curriculum map for the pupils in their school. It means paying careful attention to how the material to be studied is organised. Curriculum planning means rethinking topic work and the muddle that could be possible, although not inevitable, from 'topics' with titles such as water or colour. Unless such vague topics are underpinned by a clear rationale and conceptual rigour, they devolve into ridiculous tenuous links."
Curriculum Coherence
What is the main idea we want pupils to think about?
Thinking hard about coherence matters, because if we don't, then what is offered to children is bitty. Bitty means that there are lots of fragments of knowledge floating around without being placed in a bigger basket.
At Tredington, our teachers remind pupils of the connections between what is taught and learnt today and the bigger picture. The Foundation curriculum is broken into a rolling programme of Cycle A and Cycle B, so that knowledge and skills a child gains in one year, they will use and build upon. The learning is designed to be fun and engaging - ensuring the children develop a passion for individual foundation curriculum subjects such as Geography and History. For example, Year 5/6 pupils learning in the Cycle B Summer term unit on Law and Order will engage in a mock trial. The curriculum also ensures children learn about their locality - understanding about produce grown in the local farms and how this moves from farmland crops to goods in shops.
Everyone can see how the learning today relates to a bigger story and it is more effective because the detail of today is more likely to stick when put into the context of the overall scheme.
Careful attention needs to be paid to the underlying knowledge which pupils need in order to access the subject in later years. We are a pattern seeking species. We look to make sense and order from the world around us. It is hard-wired into us to want to see how things connect. And this ideas should be fundamental to thinking about a curriculum and its coherence. The coherence comes from paying attention to the big picture which underpins each curriculum area.
Long-term Memory
The aim of our 3D Curriculum is to ensure children transfer knowledge to their long-term memory, and don't, for example, just learn some facts about the Romans which they will have forgotten by the time they start their next topic on 'Australia'.
The 3D Curriculum is designed having carefully considered the 'Cognitive Load Theory' - using knowledge of the human brain to design teaching strategies that maximise learning. We follow these steps when planning exciting and engaging lessons for the Badsey children:
1. Tailor lessons according to the children's existing knowledge and skills
2. Use examples when teaching new content
3. Challenge the children to problem-solve with this new knowledge
4. Cut out any irrelevant information - don't get distracted!
5. Present information to the children orally, visually and kinaesthetically
6. Challenge the children to combine their new knowledge with their imagination to create something new with what they have learned
Prior Knowledge
This is an essential part of all areas of learning at Tredington... put simply, what do the children already know?
Prior to any new theme being taught each term, our teachers have an understanding of what the children will have covered according to the National Curriculum in a previous year group. Children 'knowledge activators' at the start of a new term to show what they already know, and can build on these throughout the term as they acquire new understanding.
Philosophy 4 Children
Philosophy for Children (enquiry based learning) offers a way to open up children's learning through enquiry and the exploration of ideas. All teachers at Tredington have had training on P4C and use it as a tool to deliver some aspects of the Foundation Curriculum. Children learn that their ideas have value, and that the ideas of other children have value too. Through Philosophy for Children they realise that they don't always have to be right, but they gain the confidence to ask questions and learn through discussion.
P4C is a celebrated and well-know tool for enabling children to use and apply knowledge and commit it to their long-term memory.